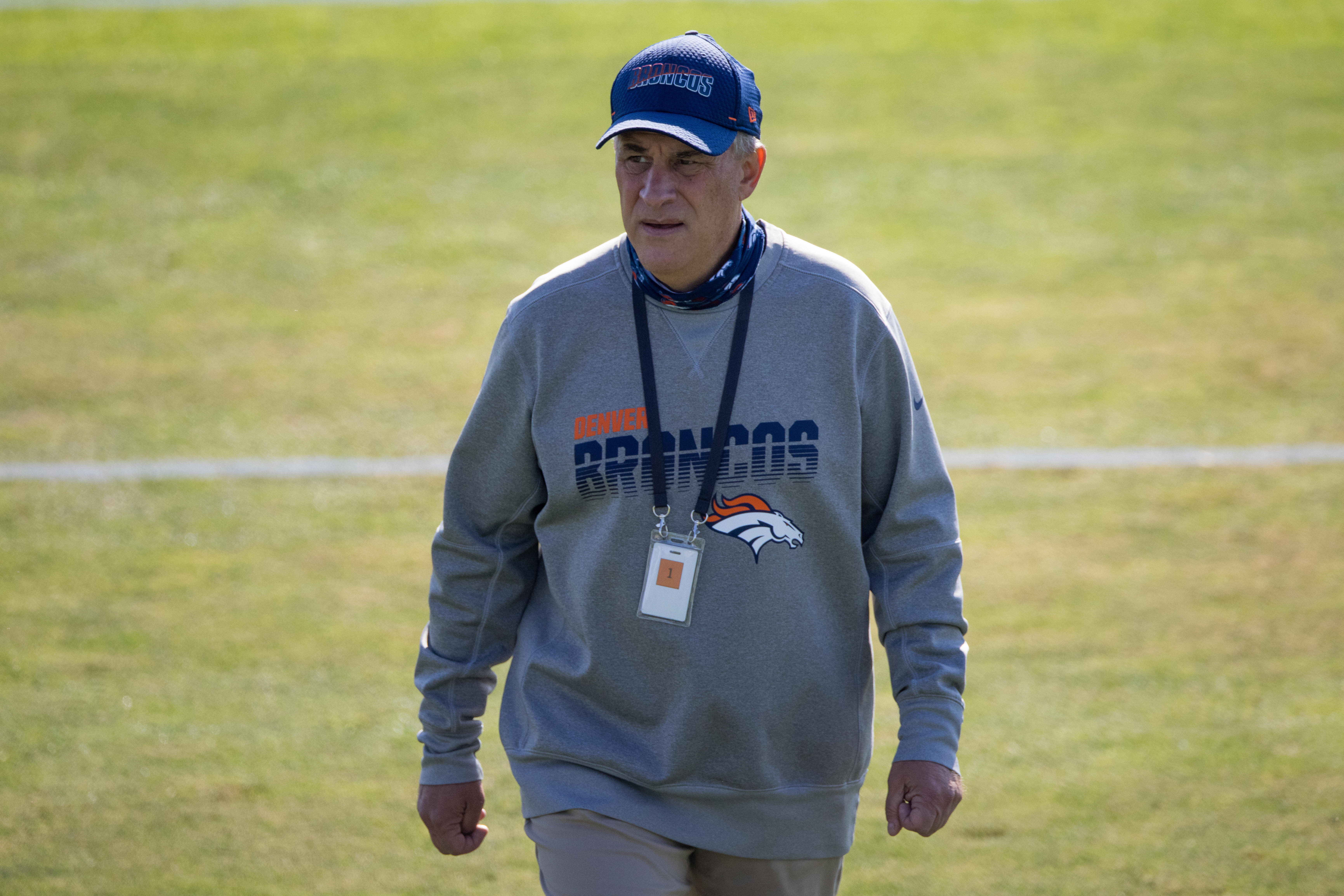 Denver Broncos head coach Vic Fangio oversees practice at Training Camp 2020. (Photo: Justin Edmonds/Getty Images)
By Brandon Krisztal
As both myself, as the KOA Broncos Insider, and our NFL Insider, Benjamin Allbright, have been saying for weeks, The Broncos plan to bring Head Coach Vic Fangio back in 2021.
There's been random speculation that Fangio may not be back if the team only won 5 or 6 games. While that's certainly a possibility, I've been told that President of Football Operations and General Manager wants his head coach back next year.
There are a number of factors, most beyond Fangio's control that contributed to the team's record. Whether it was injuries, and there were many, and they were significant, to Covid restrictions, to overall lack of off-season and pre-season work, there was an understanding that had these obstacles not been in place, the team would be battling for a playoff spot, or even playoff positioning.
Below is Allbright's tweet December 3rd when speculation about Fangio's future grew louder.
Here was what Hall of Fame writer John Clayton wrote in the Washington Post on Dec. 1st as he was listing possible NFL Head Coach Openings.
"Vic Fangio might have a hard time keeping his job if the Broncos lose 10 games. They are 4-7 and have a tough closing schedule that includes Kansas City, Buffalo and Las Vegas.
Fangio has done his job on defense. The Broncos have a top-10 unit even without star pass rusher Von Miller, who should be back next year. The offense is another attractive part of this job. Drew Lock is still trying to prove he is a franchise quarterback, but the offensive line is solid and Denver has a talented, young receiving corps. The Broncos also have a lot of salary cap flexibility."
I went on "Broncos Country Tonight" that evening, and just as both Allbright, and his co-host Ryan Edwards had been saying, told them that Fangio would almost certainly be back in 2021.
Continuity is the key here. The Broncos haven't had it since John Fox left. Gary Kubiak was in charge for 2 seasons, followed by Vance Joseph for 2 seasons. This is obviously Fangio's second season.
The Bottom line is Elway and Fangio, who are both about the same age, both see football the same way. They get along, and they know that under better circumstances, the team would be in a much better position record-wise.
In addition to Fangio returning, I expect to see Offensive Coordinator Pat Shurmur back. Lock has had 6 different offensive coordinators in 7 seasons dating back to high school. The only time he had the same O.C. he set and SEC single-season touchdown record throwing 44 TDs in 2017.
Here's what Drew Lock told me when I asked him about having his play caller back:
"Yeah, that'd be awesome. It'll be my first comforting feeling since my sophomore year of college to be able to have [University of Central Florida Head Coach] Josh Heupel back to back years. He's one of the more inspirational guys to me in my football career and it's probably because I ended up having him more than one year in my life. It's nice to have somebody that you're familiar with, that you feel like you have continuity with, and that you know he knows you and you know in your heart that you know him as a play caller. You know how they're going to coach. You know what they expect, and it'll just make me feel comfortable. I think it'll make everybody feel comfortable, not only myself. It's obviously important for the quarterback to feel comfortable, but as a quarterback you want everyone else around you to feel comfortable and I feel like having the same play caller in this organization for more than one year would be huge for us."